Wiarton Area Hiking Ideas
There are hundreds of trails in Grey and Bruce County, for everyone regardless of age or experience level, from 5 minute hikes to 5 day hikes. The Bruce trail passes right past the Waterview on the Bay Resort so we get the pleasure of meeting so many of these adventurers. Check out The Bruce Trail Conservancy for all the details on where, what and when all the exciting events are happening. Also you have to download the new app they have. It pin points where you are and shows all the trials – never have to worry if you missed the turn or past the adjoining trails again.
Our family favourites would be the Bruce Cave and Skinners Bluff hike. Here you get the best of the escarpment from the bottom, with caves at the base and incredible rock ledges and crevasses, and then the magnificent views of the bay and islands from rock ledge jut outs!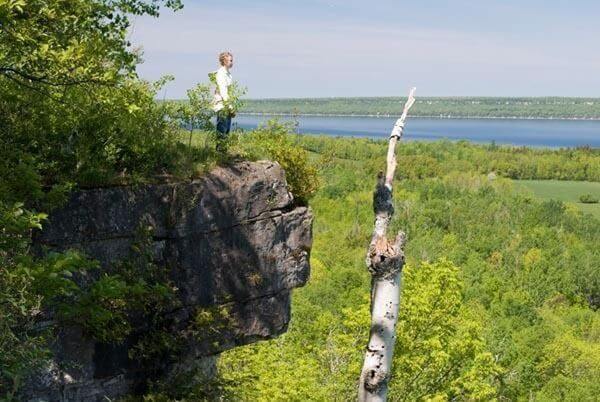 There are also several hikes, of various lengths that start right from the Wiarton Willie statue in Bluewater Park in Wiarton. One of our old regulars is the Spirit Rock trail, where you can climb the circular stairs and also visit the old McNeills mansion. This area is Grey Sauble Conservation Area, and a wonderful place to enjoy a picnic.
Another favourite would be located at the top of the Bruce Peninsula is Flowerpot Island and the Grotto. You will find them near Tobermory, which is a picturesque lakeside town surrounded by the majestic Niagara Escarpment and spotted with colourful shops and restaurants. The Grotto and Indian Head Cove are two of the top tourism attractions in Ontario. The grotto is a big cave on the shore, it was carved out by the waves of Georgian Bay over thousands of years. The cave itself is stunning, with sunlight from the outside revealing a brilliant underwater tunnel on the inside. You can walk along the ledge inside or swim in its cool, clear, turquoise water. It is a 30-minute hike to the Grotto from the Head of Trails parking lot, down Cyprus Lake Road. Now it a great time to come and check it out before it gets to busy, as it does in the summer. This year the Bruce Peninsula National Park is celebrating 150 years and there is no admission. So many areas to explore and details on the Parks Canada site you need to know about, check it out here.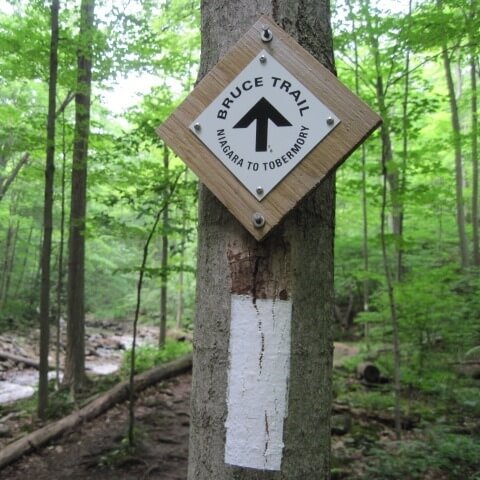 But don't forget after a long day of hiking you will want a comfy bed to come back to, so book it now at the Waterview on the Bay,  where you can also enjoy roasting some marshmallows around the fire, the sand beach, or the heated pool.