Spring Time GreyBruce Maple Syrup Festivals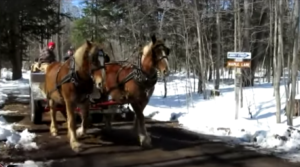 MAPLE SYRUP… Mmmmm. It's maple syrup season again, and if you love all things pioneer, and especially watching maple syrup being made, then there are three upcoming local Grey Bruce maple syrup festivals we'd like to recommend to you.
Coming up on the weekends of March 18th & 19th and March 25th & 26th, the Rotary Club of Wiarton is hosting Maple Magic at Regal Point Elk Farm, 462081 Concession 24, Georgian Bluffs. Open from 9 a.m. to 1 p.m. enjoy a fun filled day, with log sawing contests, climbing challenges, and a maze. There is a children's playground, you can admire the elk, and see modern maple syrup processing equipment. For more information click http://www.regalpointelk.com/maple-syrup/maple-magic.html
---
On the weekend of March 25th and 26th from 10 a.m. to 4 p.m. each day at Saugeen Bluffs Conservation Area near Paisley is the Saugeen Bluffs Maple Syrup Festival. Come and enjoy free maple syrup taffy, and see maple syrup being made the old fashioned way. There are horse drawn wagon rides and live entertainment. Special guest appearances by Paul Frenette of HGTV's Carver Kings, and be amazed by the canine acrobatics of 4 Paws Flying Entertainment. Tickets $8 adults, $3 children, and preschoolers free! Click http://www.saugeenconservation.com/maplesyrup.php for more information.
---
Coming up in April is the Purple Valley Community Maple Syrup Festival. Enjoy the sweet taste of fresh, warm, maple syrup on a pancake for breakfast, or take some fresh maple syrup home for later. Follow breakfast with a horse drawn buggy ride, a tour of the sugar shack, go for a hike in the bush, or bake bannock over an open fire. Dates are to be announced. Purple Valley Community Centre is located at 565 Purple Valley Rd, Wiarton, ON N0H 2T0.
---
Looking for a room to book so you can take your family and friends to the maple syrup festivals this spring?
Call us now for more information at 1-519-534-0921.