Bruce Peninsula Boat Tours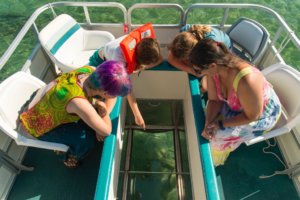 Enjoy a guided boat tour past islands once home to a local still, a First Nations smokehouse and one of the oldest permanent structures in Bruce County. See shipwrecks, learn about the history, the geography and the rare and endangered species in this stunning part of South Bruce Peninsula.
The area they navigate is a series of 70+ islands that extend from Chief's Point in Sauble Beach in South Bruce Peninsula to Stokes Bay in North Bruce Peninsula. These incredible guided passenger tours are aboard pontoon boats, in sheltered waters of Lake Huron.
Tours depart from the cottage community of Oliphant, just 13 km west of Wiarton.
They have 3 boats, including one with a glass-bottom. Two of the boats have the capacity for 6 passengers, one has the capacity for 12. Group tours, private tours and special experiences are offered.
All tours are pre-booked. Passage may be booked online up to 24 hours in advance, or call for reservations. For possible same-day availability, please call 519-372-6309.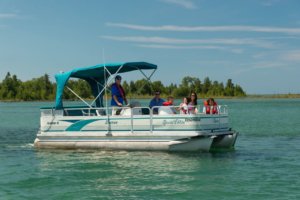 Website: https://brucepeninsulaboattours.com
Link to our Video: https://youtu.be/E410pFAOfGg