We cannot allow cooking in the motel building for fire and insurance reasons.
However, we do provide tables and chairs as well as a microwave and toaster in the Rec Hall for our guests use. On the patio outside the Rec Hall we provide a couple portable barbecues and picnic tables for guests of the motel. You can either bring your own small green propane canister for the BBQs or purchase them at the office.
We do our best to accommodate special requests for a nominal fee.
During the summer season this is very difficult as we have 21 motel rooms and 5 cottages to have fully cleaned and the grounds/beach prepared for the next set of guests, all between 10:30 am and 3:00 pm.
We are dog friendly!
We limit each room to a max of 2 dogs.
We do require a credit card to be left on hold at registration in case of doggie damage.
We ask that:
All dogs must be registered at check-in, there is a $10/dog/night fee.
Your dog be on a leash at ALL times around the property.
You poop and scoop up after your dog(s) (if you need a bag please let us know).
You never leave your dog unattended in the rooms unless kenneled.
You please don't allow the dog(s) in your bed (it is very difficult to get their hair out of the bed sheets for the next guest).
If you are unable to keep them off the furniture and bed, please bring blankets/sheets to cover our bed/chair/futon (if you forget please ask us to find you some).
No excessive barking or whining (this includes the dogs) to allow everyone to enjoy their time at the Waterview.
Dogs are not allowed in the pool area, but are allowed on leash at the beach area.
Thank you for your cooperation!
As with most cottage rentals, we ask that:
You leave the cottage as you found it. This means dishes need to be washed and put away, garbage gathered up and cottage is clean. Beds do not need to be made of course.
Absolutely no smoking in the cottages.
Please be aware of the dangers of BBQing, and keep flare ups to a minimum and do not leave unattended.
If you use the BBQ please leave it clean for the next guest, let us know if you need gloves or garbage bags. Unclean BBQs will result in a cleaning charge.
We will collect garbage daily but please do not leave it outside (animals will make a terrible mess for you to clean up).
Sheets and one set of towels are provided, however, we do not provide daily maid service (so you may want to bring extra towels or hang them up each day).
The blue recycle bins outside your door are only for drink containers (cans, bottles and alcohol containers). Cardboard and plastic is not recycled in our area.
Thank you for your cooperation!
Waterview on the Bay Resort facility is fully non-smoking. 
This means no smoking (of any kind) in our buildings or on the decks.
Although we do not require you to be a set distance from the building, we do ask you to be respectful of others. There are several ash trays and towers at the front near the parking area, at Willie's Den patio, and just outside the pool area to the north.
Please do not leave cigarette/cigar butts on the ground, in the parking lot, on the beach or anywhere for that matter. There are several towers/ash trays scattered throughout the property. Or you can carry a can or bottle with you to dispose of them in.
There is no smoking permitted in the pool or hot tub areas.
Thank you for your cooperation!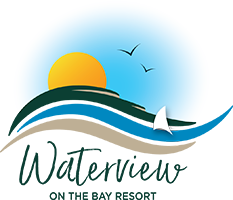 Local: 519-534-0921

Toll Free: 1-877-534-0921

501205 Grey Rd 1,

Georgian Buffs, ON, N0H 2T0